Lotus Elise Load Lugga!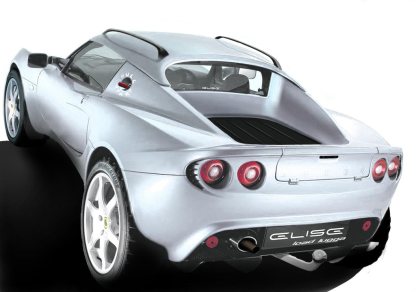 : il pesce d'aprile "ufficiale" Lotus.
Tutti i puristi si strapperanno i capelli: Lotus ha annunciato il primo veicolo commerciale leggero (leggerissimo, secondo la filosofia di Colin Chapman): la Lotus Elis Load Lugga.
Nel seguito la press release Lotus per intero. La scelta di fare una Elise con piano di carico posteriore è dovuta alla sempre più notevoli opportunità offerte dal mercato dei pick-up derivati da auto sportive.
Trazione integrale, 10 kg di capacità di rimorchio (vedere il gancio), 5 kg di carico utile sul "flat-bed". Molto belli i mancorrenti in fibra di carbonio. L'altezza da terra è di 10 cm, per permettere di affrontare terreni sconnessi.
Nel seguito la press release Lotus.

Lotus announce first Elise-based pickup
Lotus Cars is delighted to announce that its first light commercial
vehicle rolls off the production line today.
The Lotus Elise 'Load Lugga' is an Elise-derived flatbed that seeks
to secure a slice of the ever-growing worldwide market for sportscar-derived
pickup trucks.
Utilising a Briggs and Stratton pull-start diesel engine, uniquely
supercharged by Lotus's own engineers, the Elise 'Load Lugga' is the first
Lotus to marry advanced 4-wheel drive technology with the Lotus design
philosophy of 'performance through lightweight'. A useful 5kg payload,
together with an optional towing hitch offering a further 10kg of
load-hauling capacity, ensures the new Lotus will be equally at home
carrying a small bag of sugar as an expanded polystyrene surfboard.
With carbon fibre roof rails and perforated aluminium bull bars
ensuring the new Elise derivative looks the part without compromising
performance, hopes are high that 0-60mph acceleration is less than 3
seconds, and will have flatbed fans reaching for their chequebooks.
An active payload management system, linked to the engine's oil
pressure control module, optimises ride and handling round even the sharpest
bend, while big chunky tyres increase ground clearance to an
all-terrain-conquering 4 inches.
Trevor Houghton-Berry, Lotus Head of Commercial Operations looked to
the future 'The Elise 'Load Lugga' is our first move into the lucrative LCV
market and certainly lives up to the Lotus philosophy of 'change the rules'.
We like trucking and we like to truck!'
Mark O'Shaughnessy, Lotus USA Sales and Marketing Director
commented, 'We can no longer ignore Lotus's big opportunity in the pickup
market - we want a slice of the action and are gunning for a 0.0026% market
share this year and 0.0027% next. The Elise 'Load Lugga' will be known as
the F1.50 stateside and we are set to take the market by storm. 200 Lotus
Elise F1.50's in the first year? Bring them on.........'